Human Resources
Bito Technologies have continuously provided the most innovative solutions for Human Resource Industry. These IT services we provide, efficiently maximize the performance of company's employees for the benefit of company's objectives and aspirations.
Human Resources department in a company has to manage salaries, insurance, benefits, deal with industrial relations, employee conduct, and implement any effective relevant governmental laws.
With our IT solutions, we address all these prospects of the HR Department. Our solutions for the industry include Complete ERP Systems, Process Management applications, MIS Solutions, employee behavior and management tools, etc..
Downloads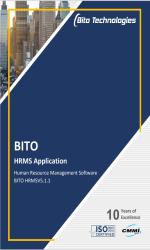 Bito HRMS Software Brochure (Human Resource Management Software)
Bito HRMS (Human Resource Management Software) Brochure. A complete details of modules and features of this Enterprise Application. One of the best HRMS software available for Large, Medium & Small scale organizations.

Downloads
Connect With US
You will never come to know that how your IT Requirements can be fulfilled in efficient and economical way. Let's Connect now to get best solutions from the IT Experts
Call Us
+91-6392865568
Email Us
sales@bitotechnologies.com
Fill our sales enquiry to get a quick response back from our Team of Experts